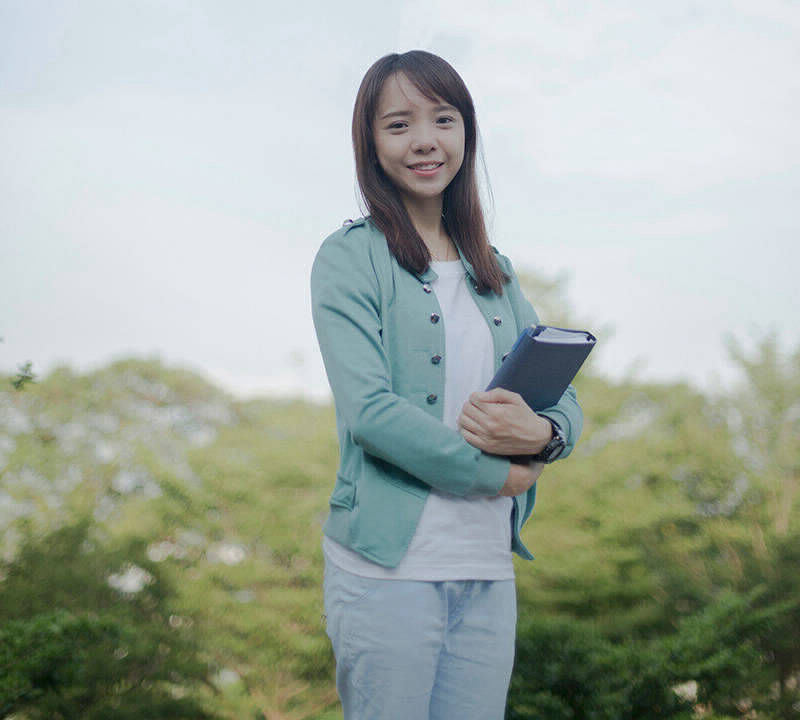 Assoc. Prof. Dr. Tey Shi Bin
Academic Qualification:
PhD in Chinese Classical Philology, Central China Normal University, Distinction in PhD Thesis Inter-varsity (2011-2014)
M.A. in Chinese Ancient Literature, Central China Normal University, Distinction in Master Thesis Inter-varsity  (2007-2010)
B.A. (Hons) in Chinese Studies, University of Malaya, First Class Honours (2004-2007)
(1) Personal Information
Introduction

Tey Shi Bin, Malaysian, born in 1984, graduated from the Chinese Department of the University of Malaya with a first-class honours degree. She received the "Chinese Government Full Scholarship" to study in China with recommendation from the Chinese Embassy in Malaysia, the Ministry of Higher Education of Malaysia, and the Chinese Department of the University of Malaya. In 2010, she obtained a master's degree in Ancient Chinese Literature from Central China Normal University, China, and was awarded with the honour of Outstanding Thesis and Outstanding Graduating International Student. In 2014, she obtained a doctoral degree in Chinese Classical Philology with Outstanding Thesis and Outstanding Graduating International Student. After graduating from her Ph.D. degree, she returned to Malaysia and started working as a full-time lecturer in the Chinese Department at New Era University College. She was promoted as deputy head and assistant professor on the 1st January 2018. On the 1st April 2019, she was appointed as the founding director of the Institute of International Education which is responsible for exploring and developing international business on campus. She was awarded the first New Era Teaching Excellence Award in August 2019. In 2021, she was awarded the Teaching Excellence Award and Service Excellence Award. More than 20 academic theses, poetry creations and monographs were published, such as "The Classical Literary Language Novels of Qing Dynasty that recorded in Qingshigao Yiwenzhi, BuBian and Shiyi". She too served as chief editor of "Zhong Wen Ren". On the 1st April 2022, she was promoted as associate professor. She has moderated and given more than 60 topic lectures, almost 20 evaluations, and won several literary awards. Now she is a columnist for " China Press Daily Supplement", and a brand copywriting consultant for corporates. She advocates using the modern and creative way to stimulate the wisdom of classical literature and the beauty of Chinese language, with the responsibility of inheriting Chinese culture, the development of Chinese education, and advocating the application of Chinese in Malaysia as a disseminator of (Chinese) culture.

Major
Chinese Classical Philology

Direction of Research
Chinese Classical Philology, Bibliography Catalogue, Historical Records, Chinese Ancient Literature, Chinese Culture, Cultural Brands and Cultural Communication.

Teaching Subjects
Chinese Cultural Creatives Industries and Copywriting, Classical Philology, Historical Records, Selected Readings in Verse, Research Methodology

(2) Academic Work Experience, Administrative Experience, and Other Professional-related Appointments
Academic Work Experience


| No. | Position | Department | Work Unit | Year |
| --- | --- | --- | --- | --- |
| 1. | Dean and Associate Professor | Institute of International Education | New Era University College | 2022.4- |
| 2. | Director and Assistant Professor | Institute of International Education | New Era University College | 2019.4-2022.3 |
| 3. | Assistant Professor and Deputy Head of Department | Department of Chinese Language and Literature | New Era University College | 2018.1-2019.3 |
| 4. | Assistant Professor | Department of Chinese Language and Literature | New Era University College | 2018-2020.4 |
| 5. | Lecturer | Department of Chinese Language and Literature | New Era College/New Era University College | 2014- |
| 6. | Adjunct Lecturer | Chinese Group in Department of Foreign Languages | University Putra Malaysia | 2016.9.1-2017.2 |
| 7. | Assistant Lecturer of Immersion Programme of Chinese Cultural Lesson (Singapore Ngee Ann Polytechnic) | School of Chinese Language and Literature | Central China Normal University | 2008.3- 2008.7 |

Administrative Experience

| No. | Position | Department | Work Unit | Year |
| --- | --- | --- | --- | --- |
| 1. | Director | Marketing and Sales Department | New Era University College | 2020.6.15- |
| 2. | Chairman | Welfare Group | New Era University College | 2021.1.1-2021.12.31 |

Other
Professional-
related Appointments

| No. | Position | Department | Work Unit | Year |
| --- | --- | --- | --- | --- |
| 1. | Associate Professor with Agreement | School of Foreign Languages | University of Electronic Science and Technology of China (985, double first-class) | To be hired |
| 2. | Visiting Scholar | The Center for Legal Studies in One Country Two Systems | Beihang University(985) | 2021.10.30-2024.10.30 |
| 3. | Member of the First Malaysian Calligraphic History Professional Editorial Committee | -- | The Calligraphy Society of Malaysia | 2021.3.15- |
| 4. | Brand Partnership | -- | Loka Made Sdn. Bhd | 2021.1- |
| 5. | Brand Partnership | -- | P & P Creation Sdn. Bhd. | 2020.12- |
| 6. | Corporate Branding and Copywriting Advisor | -- | Pusat Tuisyen Global Intelek | 2020.11.1- |
| 7. | Corporate Branding and Copywriting Advisor | -- | Tenfly Academy Sdn Bhd | 2020.11.1- |
| 8. | Project Manager | Southeast Asia Research Center in Malaysia | South China Normal University | 2018- |
| 9. | Editor of "The Journal of Humanities and Social Sciences in Malaysia" | Tan Lark Sye Institute | New Era University College | 2018- |
| 10. | TTT Qualified Lecturer (Classic and Modern Management) | -- | Human Resources Department (HRDF) | 2018- |
| 11. | Member of Editorial Board of "Xin Guang" Magazine | Vice-Chancellor's Office | New Era University College | 2018- |
| 12. | Chief Editor of "Zhong Wen Ren" Magazine | Department of Chinese Language and Literature | New Era College/New Era University College | 2016-2021 |
| 13. | Representative of Academic Committee | Department of Chinese Language and Literature | New Era College/New Era University College | 2016-2019 |
| 14. | Brand Copywriting Consultant | -- | JWC Global Sdn Bhd | 2016-2019 |
(3) Research & Publication
A. Journal


| No. | Year | Authorship | Title and bibliographic information |
| --- | --- | --- | --- |
| 1. | To be added | Individual composing | To parabolize the praise and blame, and to, differentiate the demotic: Exploring the Way of Studying and his Academic Ideals from Zhang Shunhui's "Qingren Wenji Bielu", (To be added) |
| 2. | 2020 | Individual composing | Tey, S.B. 'Tan Swie Hian- A Great Master who Conduct Multi-creation with Freedom', Experts from The Association of Nanyang University Graduates, Kajang: New Era University College Tan Lark Sye Institute (Awaiting publications). |
| 3. | 2020 | Individual composing | Tey, S.B. 'Rooting on the native and face the world: The global dissemination and innovation of Malaysia 24 Festival Drum towards the traditional drum' (Updated manuscript), Onn Huann Jan: Collected Essays of Young Scholars: New Perspective on Johor Bahru, 2020, 141-163. |
| 4. | 2019 | Individual composing | Tey, S.B. Suicide Prevention: A Discussion on the Implications of Pre-Qin Dynasty Confucianism and Taoism in Modern Society,Malaysian Journal of Chinese Studies, Volume 8, No 1, 2019, page 45-56. |
| 5. | 2019 | Individual composing | Tey, S.B. (2019). The Classical Literary Language Novels of Qing Dynasty that recorded in Qingshigao Yiwenzhi, BuBian(Bibliographical Catalogue. "Xue Wen". No.16, 14-17. |
| 6. | 2019 | Individual composing | Tey, S.B. (2019). The Yongchun Community and The Textile Trade of Tangkak,Johor. Malaysia Journal of Humanities and Social Science. 8(2), 59-66. |
| 7. | 2019 | Individual composing | Tey, S.B. (2019). Research on the development of Taiwanese Opera Culture and audience in Malaysia and Singapore. Lew.B.H.(Ed): Collected Essays on Malaysian Chinese Folk Culture,2019. Petaling Jaya: Strategic Information Research Center. Kajang: New Era University College. 159-190. |
| 8. | 2019 | Individual composing | Tey, S.B. (2019). A Study of the Compilation in New Mandarin Teaching Material of National High School (KSSM). Zhang, Y.D. and Zhuang, G.T. (Eds): Overseas Chinese Philology Journal. Shanghai: Social Science Academic Press, Vol.7, 54-71. |
| 9. | 2019 | Individual composing | Tey, S.B. (2019). Spirit of Personal Bibliophile and Tan Lark Sye Library Collection. "Zhong Wen Ren". No.19, 64-66. |
| 10. | 2018 | Individual composing | Tey, S.B. (2018). 'Perfect Practice of Gu Run Jin: The bond between development of enterprise and community responsibility', Mok Soon Chong: Philanthropist in Malaysia and Singapore. Kajang: New Era University College. 66-84. |
| 11. | 2017 | Individual composing | Tey, S.B. 'Rooting on the native and face the world: The global dissemination and innovation of Malaysia 24 Festival Drum towards the traditional drum', Overseas Chinese Philology Journal, edited by Zhang Yu Dong and Zhuang Guo Tu. Shanghai: Social Science Academic Press, 2017 ,202-217. |
| 12. | 2016 | Individual composing | Tey, S.B. (2016). Research on the evolution of Su Shi's life affect the process of his poeticization. UM Chinese Literature and Cultural Journal, 2016,4(2), 53-64. |
| 13. | 2016 | Individual composing | Tey, S.B. (2016). Discussion of Dukes' Suicide in the Records of Grand Historian. Huazhong Academic, 2016,3,118-126. |
| 14. | 2016 | Individual composing | Tey, S.B. (2016). Research on Taoism Efficacious Records in Yunji qiqian. Chinese Literature and Cultural,4(1),49-62. |
| 15. | 2015 | Individual composing | Tey, S.B. (2015). Qingshigao Yiwenzhi and Baqianjuanlou Shumu: A Comparative Study of Bibliographical Catalogues of Qing Dynasty Novels. Malaysian Journal of Humanities and Social Science. Kajang: New Era College. 35-42. |
| 16. | 2015 | Individual composing | Tey, S.B. (2015). A Research About a Statement That Pointed Out by Zhao Yi: Yao Cha Was Actually the Initiator of Classical Prose Writing. Thesis Collection of International Conference on Asian Chinese Culture and Literature. Kuala Lumpur: Mentor Publishing Sdn Bhd. 301-311. |
| 17. | 2013 | Individual composing | Tey, S.B. (2013). Humorous and Analogy of Bai Yu Jing. Mt Wutai Researches, 3, 14-17. |
| 18. | 2013 | Individual composing | Tey, S.B. (2013). Concept of Future World of China People: The Theme and Composition of Ma Wang Dui T Shape Painting On Silk. Journal of Hubei (Extra Edition). |
| 19. | 2013 | Individual composing | Tey, S.B. (2013). The Comparison to a Classic Novel catalog of Dynasty Qing between Qingshigao Yiwenzhi and Siku Quanshu Zongmu. Central China Academic, 7, 73-86. |
| 20. | 2013 | Individual composing | Tey, S.B. (2013). A reading notes about Qingren Wenji Bielu: With a comprehensive knowledge to avoid vulgarity. Chinese Culture Research, 3, 48-55. |
| 21. | 2013 | Individual composing | Tey, S.B. (2013). Disabled by self-inflicted:The life chosen of figure in Shiji. Journal of Weinan Normal University, 5, 22-24. |
| 22. | 2013 | Individual composing | Tey, S.B. (2013). A Study on Literary Theory of Zhao Yi in "Nian Er Shi Zhaji". Huazhong Normal University Journal of Postgraduates,3,25-29. |
| 23. | 2010 | Individual composing | Tey, S.B. (2010). Wu Zi Xu, A choice between life and death: The emotion being of Sima Qian. The Reception and Dissemination of Modern and Contemporary Chinese Literature. Kuala Lumpur: Department of Chinese Language, University of Malaya. |
| 24. | 2008 | Individual composing | Tey, S.B. (2008). Emphasis etiquette or hegemony: The progressive idea of Zuozhuan. In Pursuit of Originality:Writings on Classical and Modern Chinese Literature,Edited by Teo Lay Teen. Kuala Lumpur: Department of Chinese Language, University of Malaya. |

B. Books

*Ranked by importance of achievement, followed by year of publication


No.
Year
Authorship
Title
Publishing City/
Publisher
1.
To be added
Written individually
Local Care of Chinese in Johor Tangkak, Minnan Village, Malaysia: Development, Deep Cultivation, Change and Perseverance (Completed, awaiting to be published).
Kajang: New Era University College
Fujian: Huaqiao University

2.
2022.5
Co-authored
The Translation Annotation and Commentary on The Dream Pool Essays
Wuhan: Chongwen Publishing House
3.
2020.3
Written individually
The Classical Literary Language Novels of Qing Dynasty that recorded in Qingshigao Yiwenzhi, BuBian and Shiyi. (one of the phased achievements of the National Social Science Fund's key project "A Collection of Describing Novel Materials in the Twenty-Five Histories 'Yiwenzhi'" (11AZD062), hosted- by Dr. Wang Qizhou)
Taipei: Hua-Mu-Lan Culture Publishing Company
4.
2015
Participated in composing
Zhang, S.X., Mao, J.J.(Eds). Synopsis of the Chinese Classical Electronic Documents Database.
Guangzhou: China Publishing Co. World Book inc
5.
2022
Editor-in-Chief
Speech Collection of Mr. Daisaku Ikeda. (Awaiting Publication)
Kuala Lumpur: Soka Gakkai University Press
6.
2020
Editor-in-Chief
"Zhong Wen Ren"- About Love, No.20.
Kajang: New Era University College
7.
2019
Editor-in-Chief
"Zhong Wen Ren"- The Afterglow of Twilight: Routinely Producing and Creating, No 19.
Kajang: New Era University College
8.
2019
Editorial board
Xin Guang Magazine, issue 10, 2019
Kajang: New Era University College
9.
2019
Editorial board
Xin Guang Magazine, issue 9, 2019
Kajang: New Era University College
10.
2018
Editor-in-Chief
Philanthropists in Malaysia and Singapore – Beijing Launching Ceremony Commemorative Special Issue.
Kajang: New Era University College
11.
2018
Co-editor
Double 10 Happiness – New Era University College 20th Anniversary Commemorative Edition.
Kajang: New Era University College
12.
2018
Editor-in-Chief
"Zhong Wen Ren"-Home, where do I belong to, No 18.
Kajang: New Era University College
13.
2019
Executive editor
Anthology of Chinese Studies of Southeast Asian Chinese.
Kajang: New Era University College
14.
2015
Executive editor
"Zhong Wen Ren"-Malaysian Children Literature.
Kajang: New Era College
Other non-academic related publications
15.
2011
Written individually
Spiritual Inspiration: The Travels of the Three Realms by Master Azam King
Johor Bahru: Blank Grid Bookstore
16.
2007
One of the writers
Edited by Lim Qing Qing and Lee Chi Hang:Luo Mu Xiao Wu Bian
Kuala Lumpur: Dream Seed Publisher

C. Conference


No.
Date
Seminar Topics and Locations
Roles
Title
1.
2021.12.4
韩中教育论坛
Presenter
"Mission with nostalgia: The Current Situation and Reflection of the Education Development of Chinese Departments in Malaysian Colleges"
2.
2021.10.30
The 40th Anniversary Celebration Meeting of Zhejiang Yuexiu University of Foreign Languages and the 20th Asian University Presidents Forum (AUPF)
Presenter (Joint publication with Professor Mok Soon Chong)
"The Import and Export of International Education between China and Malaysia under the Epidemic: Based on the Research of New Era University College in Malaysia"
3.
2020.11.6
International Forum on Regional Cooperation and Prosperity Sharing under the New Regional Order
Host
--
4.
2019.12.7
International academic seminar on "Southeast Asian Chinese and the New Culture Movement", Kajang: New Era University College
Session host, Committee of conference

--
5.
2018.11.17
The Development between Huaqiao University FuJian Nationality Overseas diaspora and Malaysian Academic Workshop, Huaqiao University
Presenter
"Family and Trade Name: The Rooting, Development and Pursuit of the Tey Meng Poh's Family in Johor, Malaysia"
6.
2018.9.3
Dissemination of International Academic Conference. Kajang: New Era University College
Presenter, Conference coordinator

"A Study of the Compilation in New Mandarin Teaching Material of National High School (KSSM) – – By Using the example of Courses 'Selected Reading in Verse' in New Era University College"
7.
2018.5.5
The Taiwan Cultural Narrative in Malaysia Chinese Education, Taiwan: Soochow University
Presenter, Conference coordinator

"An appreciation on Song Verse and Creative Teaching – By Using the example of Courses 'Selected Reading in Verse' in New Era University College"
8.
2018.5.4
5th International Conference on China Ancient Chinese Literature, Taipei: Soochow University
Presenter
"To revise the mistaken collection of 'The collections in Sun's ancestral temple' and 'The collections in Wenrui building' Bibliographical Catalogues in Qing Dynasty"
9.
2018.3.24
Malaysian Chinese and Village Development Workshop (Organized by New Era University College and China Hua Qiao University), Kajang: New Era University College
Presenter
"The ebb and flow of Cloth industry in Tangkak"
10.
2017.11.4
The Second International Conference on Malaysian Chinese Folk Culture, Kajang: New Era University College
Presenter
"Research on the development of Taiwanese Opera Culture and audience in Malaysia and Singapore"
11.
2017.11.4
The Second International Conference on Malaysian Chinese Folk Culture, Kajang: New Era University College
Session host, Panelist
--
12.
2017.7.2
International Symposium on "The Belt and Road Initiative and Malaysian Sinology", New Era University College
Coordinator
--
13.
2017.7.2
International Symposium on "The Belt and Road Initiative and Malaysian Sinology", New Era University College
Session host
--
14.
2016.10.28
Meeting theme: "The History and Responsibility: Developments and opportunities of Chinese education and literature under the background of 'The Belt and Road' , China and Malaysia International Chinese Seminar, Nan Ning, Guang Xi
Session host

Panelist
--
15.
2015.8.1-2
The International Academic Seminar of Han Shi Yi, Perak: Kampar
Presenter
"The Source of The Classical Literary Language Novels of Qing Dynasty that recorded in Qingshigao Yiwenzhi Bubian"
16.
2015.5.30
"International academic forum on Malaysian Chinese Literature and Unveiling Ceremony of Fang Xiu Library", New Era College
Host, Committee of conference

--
17.
2015.5.14-15

The International Academic Seminar of Literature and Aesthetics, New Taipei: Tamkang University
Presenter
"Prevent suicide and treasure the life given: The modern value of Life view of Confucianism and Daoism in Pre-Qin"
18.
2014.10.20
International Academic Seminar of Malaysia Chinese Studies Review and Exploration, New Era College
Session host, Panelist
--
19.
2013.1.18
The International Academic Seminar of Asia Chinese Cultural and Literature, Kuala Lumpur: University of Malaya
Presenter
"A Research About A Statement That Pointed Out By Zhao Yi: Yao Cha Was Actually The Initiator of Classical Prose Writing"
20.
2009.8.9
The International Academic Seminar of China Literature's Spread and Reception, Kuala Lumpur: University of Malaya
Presenter
"Wu Zi Xu, a choice between life and death: The emotion being of Sima Qian"

D. Research Projects


| No. | Year | Title | Project members | Project Sponsor | Progress | Roles |
| --- | --- | --- | --- | --- | --- | --- |
| 1. | 2021 | Annotated Catalog of the Collections of Chempaka Buddhist Lodge | More than 20 people | Chempaka Buddhist Lodge | In progress | Co-host |
| 2. | 2021 | Research and publication of "Salvation for the people: Buddhism and the history and important figures of Buddhist Lodges in Malaysia" | More than 10 people | Chempaka Buddhist Lodge | In progress | Co-host |
| 3. | 2021 | Bibliography of the Collection of the Teo Chew Association | More than 10 people | Teo Chew Association | In progress | Co-host |
| 4. | 2017 | A Research Grant of New Era University College (Since May 2017) regarding The Publishing Project of Collection of Philanthropist in Singapore and Malaysia (responsible in writing the part of Tan Sri Koo Yuen Kim) | More than 20 people | New Era University College | Project ended | Participated in composing |
| 5. | 2016 | An Academic Workshop for Hokkien Population in Malaysia and The Development of Malaysia Village (Since July 2016) that lead by Professor Chen Cong Yuan from Huaqiao University, China. | -- | Huaqiao University Special Funding Project for Overseas Chinese Studies of Huaqiao University, chaired by Chen Tsung Yuen | Project ended | Participated in composing |
| 6. | 2016 | A Research Grant of Tan Lark Sye Institute (Since 2016) regarding The Publishing Project of People Collection of Nanyang University (responsible in writing the part of Tan Swie Hian) | More than 10 people | Tan Lark Sye Research Institute In-service Faculty Research Fund Program | Project ended | Participated in composing |
| 7. | 2015.4 | A Research Grant of Tan Lark Sye Institute (Since April 2015) regarding Proposal of Literary Studies for "From Attached Sheet to Supplement to Lat Pau" | 3 | Tan Lark Sye Research Institute In-service Faculty Research Fund Program | Project ended | Participated in composing |
| 8. | 2014 | "The Comparison on Classic Novel catalog between Qingshigao Yiwenzhi, Bubian and Shiyi" | -- | -- | Project ended | PhD thesis writing |
| 9. | 2008-2009 | Research regarding the China Academic circle and Malaysian Chinese Culture (lead by Dr. Fan Pik Wah) | -- | -- | Project ended | Research assistant |

E. Newspaper and magazine articles

No.
Date
Title
Source
1.
2021.1.26
Your smile
China Press Daily
2.
2021.1.12
The scoop of passionate devotion
China Press Daily
3.
2020.12.29
Return home
China Press Daily
4.
2020.12.15
My charm as an adult
China Press Daily
5.
2020.12.1
Reading circle and Discipleship
China Press Daily
6.
2020.11.17
Warmth and cold at the western district of the mountains of osmanthus in Central China Normal University
China Press Daily
7.
2020.11.3
Can you endure hardship?
China Press Daily
8.
2020.10.20
That year on the way to obtain a PhD
China Press Daily
9.
2020.9.13
I'm living well now
China Press Daily
10.
2020.8.30
Things about part-time 1.0
China Press Daily
11.
2020.8.16
As Far As You Can Fly
China Press Daily
12.
2020.8.2
Things about part-time
China Press Daily
13.
2020.8.2
Things about driving
China Press Daily
14.
2020.7.19
Things about cooking
China Press Daily
15.
2020.6.18
Enjoyment delayed
China Press Daily
16.
2019.11.18
Let's take off in our dreams
China Press Daily
17.
2018.4
Hong Men: A Banquet for the World
Zhong Wen Ren, Issue 18
18.
2018.2.13
The subtle beauties of Chinese New Year in Big Family
China Press Daily
19.
2018.1.9
Learning adventures as a beginner
China Press Daily
20.
2017 (6 issues)
The Chinese Grand View Garden
Sin Chew Daily
21.
2016.1.26
The Illuminated City Lights on The Causeway
Sin Chew Daily
22.
2015.12
Useless is The Most Useful
Zhong Wen Ren, Series 3
23.
2015.2.10
Turmeric Rice (prose)
Kwong Wah Daily
24.
2014.12.10
A Cold Library (prose)
Feng Cai Magazine
25.
2014.4.9
Chinese Studies of University of Malaya's development is a long and arduous task
Sin Chew Daily
26.
2014.1.14
My Chinese Journey (prose)
Kwong Wah Daily
27.
2013.6
Humorous of "Bai Yu Jing"
Zheng Xin (Buddhist Magazine)
28.
2012.8.2
How important is academic qualifications? (News commentaries)
Incident of Seow Yuan Sheng (News commentaries)
Oriental Daily
29.
2012
Interpreting the poem "To HCK" written by Fang Ang (Literary criticism)
Malaysian Chinese Literature: Inheritance and Creativity
30.
2010
The Illuminated City Lights on The Causeway
The 3rd International Chinese Prose Writing Contest
31.
Issue 5, 2009
Thoughts of a overseas traveler (Poem)
Southeast Asia Poetry
32.
Issue 4, 2009
Thoughts of a overseas traveler (Poem)
Southeast Asia Poetry
33 - 51.
2008/2009
One of the columnists of "Six Intellectual Women's Column", (18 issues in total, 18 articles written)
Feng Cai Magazine
(4) Speech and Hosting Experience
Presenter


| No. | Date | Title | Local/ Overseas | Organizer | Roles |
| --- | --- | --- | --- | --- | --- |
| 1. | 2021.12.11 | Nostalgic mission of Chinese Educators in Malaysia | Local | Institute of International Education, New Era University College | Presenter |
| 2. | 2021.9.16 | My origin- Tangkak" Got Talent- Tell us your story | Local | "My origin- Tangkak" Facebook Live Streaming | Presenter |
| 3. | 2021.9.13 | Fresh out of university, should I choose a job that I like but low-paying, or a job that I do not like but high-paying? | Local | "Listen to Me" events series of the Department of Guidance and Counseling Psychology, New Era University College | Panelist |
| 4. | 2021.9.9 | Family and Trade Name: The rooting, development and pursuit of Yongchun people in Tangkak | Local | "New Era Humanities Hall Series 1: Chinese Businessmen: Humanistic Feelings" | Presenter |
| 5. | 2021.5.15 | Worthless or Words Are Worth a Thousand? How Zhong Wen Ren Make Words Valuable | Local | New Era University College | Presenter |
| 6. | 2021.4.15 | Falling and awakening: I read "As Beautiful as Freedom: The Children's Paintings Remains in the Jewish Concentration Camp" | Local | UM Chinese Studies Literature Fortnight | Presenter |
| 7. | 2020.12.7 | Family and Trade Name: The Rooting, Development and Pursuit of the Tey Meng Poh's Family and "Zhong Xing Zhan" in Tangkak, Johor, Malaysia | Overseas | Liaoning Jianzhu Vocational College | Presenter |
| 8. | 2020.10.24 | The past serves the present: The wisdom of Chinese historical philosophy | Local | New Era University College and Sin Chew Daily | Presenter |
| 9. | 2020.9.20 | Motivation to learn | Local | Yuk Choy High School | Presenter |
| 10. | 2020.8.26 | One man can experience a reversal of fortune through a dream | Local | SMK Seri Kembangan | Presenter |
| 11. | 2020.5.2 | Chinese and the present world | Local | Sparkz Education Forum: Education can be different | Presenter |
| 12. | 2019.12.30 | Corporate Seminar Workshop: A Work's Perspective | Local | JWC Global Sdn Bhd | Presenter |
| 13. | 2019.12.12 | Listen to your inner voice | Local | New Era University College | Presenter |
| 14. | 2019.11.21 | Family and Trade Name: The Rooting, Development and Pursuit of the Tey Meng Poh's Family and "Zhong Xing Zhan" in Tangkak, Johor, Malaysia | Overseas | Haikou University of Economics | Presenter |
| 15. | 2019.8.16 | The Elegance of Ancient Literature and Knacks for Learning Ancient Chinese | Local | SMK Taman Bukit Maluri | Presenter |
| 16. | 2019.4.13-14 | Creative Stories from Copywriter to Client | Local | New Era University College | Presenter |
| 17. | 2019.01.05 | Copywriting Power | Local | New Era University College Experience Camp | Presenter |
| 18. | 2018.5.14 | Courses on Chinese Literature and Copywriting | Local | SMJK Yu Hua | Presenter |
| 19. | 2017.10.26 | The beauties and functions of Chinese | Local | Catholic High School | Presenter |
| 20. | 2017.9.10 | An open window for Chinese: Introduction the courses of Department of Chinese Literature and Language in New Era University College | Local | Carnival of Department of Chinese Studies, University of Malaya | Presenter |
| 21. | 2017.7.14 | As Beautiful as Freedom | Local | Kuen Cheng High School | Presenter |
| 22. | 2017.5.20 | The Power of Literature | Local | Poi Lam High School, Perak | Presenter |
| 23. | 2017.4.28-29 | Reasons of Chinese Should be Learned | Local | Segamat "Motivation Camp on the Chinese Language" | Presenter |
| 24. | 2017.2.25 | Discussion of Chinese and Goals | Local | Visitation of Kwang Hua High School to New Era College | Presenter |
| 25. | 2017.1.24 | The Necessity of Chinese | Local | SMK Seri Lalang | Presenter |
| 26. | 2016.9.7 | Exchange Meeting of Chinese Language Students | Local | The 11th New Era College Chinese Department Literature Week | Presenter |
| 27. | 2016.6.25 | My Chinese Journey and My Quest for Chinese Culture | Local | SMJK Segamat, Johor | Presenter |
| 28. | 2016.6.24 | Reading and Writing in Literary | Local | SMK Jementah, Johor | Presenter |
| 29. | 2016.6.19 | It's time to get home: from here, I started my Chinese Journey | Local | SMK Taman Daya | Presenter |
| 30. | 2016.6.18 | I teach in Mandarin (Lecturer speech time), I learn in Mandarin(student speech time) | Local | Visiting of SMK Sungai Besar, New Era College | Presenter |
| 31. | 2016.6.8 | Cultural and Creativity | Local | National Chinese Cultural Camp, New Era College | Presenter |
| 32. | 2016.4.23 | Creativity in Writing and Culture: Making a Different | Local | Workshop for SMK/SMJK Mandarin Teacher, New Era College | Presenter |
| 33. | 2015.11 | Reading as an umbrella for me | Local | Oriental Art and Cultural Association | Presenter |
| 34. | 2015.10 | The Power that Giving by Mandarin toward My Life | Local | An Exhibition for Chinese Education, by Rainbow Society | Presenter |
| 35. | 2015.8 | My University Life in Past Year and Let be a Better College Student | Local | New Era College Orientation Camp | Presenter |
| 36. | 2015.8 | My Chinese Journey: Past, Present and Future | Local | Motivation Camp on the Chinese Language, New Era College | Presenter |
| 37. | 2015.6 | My Chinese Journey | Local | Visiting of SMK Jementah to New Era College | Presenter |
| 38. | 2015.5 | What is Cultural and Creativity? | Local | Training camp of the Culture Promotion Centre of New Era College | Presenter |
| 39. | 2015.5 | Where is the Future of Chinese Studies? Why I learn Chinese Studies? My Thinking of Chinese Studies | Local | Chung Hwa High School, Seremban | Presenter |
| 40. | 2014.11 | Learn Ancient Writings Happily | Local | Tsun Jin High School | Presenter |
| 41. | 2013.3 | The attractiveness of Chinese Language: the importance of learning Chinese, sitting for SPM Chinese Paper | Local | Seri Kota Puteri Secondary School | Presenter |
| 42. | 2012.12 | Malaysian Chinese Cultural Lifestyle: My Chinese Learning Journey | Overseas | "Tan Lu Zhe International Youth Hostel", Wuhan, China | Presenter |
| 43. | 2011.11 | Malaysian Chinese Cultural Lifestyle: My Chinese Learning Journey | Overseas | Advertisement and Art Design Faculty, Wuhan University of Technology, Wuhan, China | Presenter |
| 44. | 2011.5 | Research Methodology for Postgraduate Students | Local | Department of Chinese Studies, University of Malaya | Presenter |
| 45. | 2011.4 | Tolerant: A Cultural Character of The Hans people from the Ancient to Modern | Local | SJK(C) Foon Yew (5), Johor | Presenter |
| 46. | 2009.7 | I study Chinese, I take Chinese exams | Local | Taman Daya Secondary School | Presenter |

Host


| No. | Date | Title | Local/Overseas | Organizer | Roles |
| --- | --- | --- | --- | --- | --- |
| 1. | 2021.12.1 | "Why Japanese Scholars studies Malaysian Chinese Literature" Lecture By Professor Masutani Satoshi | Local | New Era University College | Host |
| 2. | 2021.11.24 | "Tan Lark Sye Lecture Series" 1st Talk by Professor Fan Ruolan | Local | New Era University College | Host |
| 3. | 2021.10.28 | "Academic and cultural lecture series of Huainan Normal University and New Era University College: University President Lecture" (Vice Chancellor of New Era University College, Dr. Mok Soon Chong and Vice Chancellor of Huainan Normal University, Dr. Li Linqi) | Overseas | New Era University College, Huainan Normal University | Host |
| 4. | 2021.9.24 | "How to use wealth management to win at the starting point: Financial tips for not having enough money (Interview session with Ms. Agnest Siaw), New Era University College Lecture Series on Further Education and Career Planning | Local | New Era University College | Host |
| 5. | 2020.12.30 | "Culture talk: Ukraine", Online talk of Language and Intercultural Centre, Institute of International Education | Overseas | New Era University College | Host |
| 6. | 2018.7.17 | "The Living Library: Ma Bao Jing, Chen Li Shao and Koh Hui Ling", "Dynamic as nature" 20th Anniversary of Department of Chinese Language and Literature and 13th Literary Week | Local | New Era University College | Host |
| 7. | 2018.4.21 | "The living library: Wu Liu Ying", "Dynamic as nature" Grand Award Ceremony and Motivation Camp on Chinese Language | Local | New Era University College | Host |
| 8. | 2016.9.7 | "Writers Exchange's Night", The 2nd Huazong Literature Camp | Local | New Era College | Host |
| 9. | 2016.4.23 | "The living library: Lucas and Chris", The 2nd New Era College Kajang Community Book Fair | Local | New Era College | Host |
| 10. | 2016.4.21 | "The living library: Fanglu", The 2nd New Era College Kajang Community Book Fair | Local | New Era College | Host |
| 11. | 2015.4.11 | "A Talk of The Principal of NEC: My University life", The 1st New Era College Kajang Community Book Fair | Local | New Era College | Host |
(5) Events and Brand Building
No.
Date
Project/Activity
Local/Overseas
Involving partners
Roles
1.
2021.11
The 1st campus with new energy vehicle (motorcycle) charging pile in Malaysia
Local
Emergence Innovative
Sdn. Bhd.
Coordinator
2.
2021.11
"Tan Lark Sye Lecture Series" International Seminar
Overseas
New Era University College, Institute of International Education, Tan Lark Sye Institute
Coordinator
3.
2021.7
Merchants' Invitation Project Team for New Era Card
Local
Major domestic merchants
Planner
4.
2021.6.8
New Era University College x JWC Roastery Father's Day Copywriting Competition
Local
JWC Global Sdn. Bhd., New Era University College
Planner
5.
2021.1-
Lecture Series on Further Education and Career Planning
Local
--
Planner
6.
2019
New Era University College Campus Music Album "Flying High"
Overseas
Apple Music
Spotify
MOOV
QQ Music
GooglePlay Music
Amazon
Amazon Music
KKBOX
MyMusic
Friday Music
Coordinator/
Copywriter
7.
2019-
Facebook Page of New Era University College
Overseas
--
Copywriter
8.
2019.12.20-27
The 20th Hainan Happy Festival - The 2nd China-ASEAN College Students Cultural Week
Overseas
Haikou College of Economics
Coordinator
9.
2019.10.8
New Era University College Campus Music Album "Flying High" 's Introductory Ceremony and Music Session (800 participants)
Local
--
Coordinator
10.
2019.9.7
"Flying High" 's music sharing session at Kuen Cheng High School
Local
Kuen Cheng High School
Coordinator
11.
2019.8.1
"Flying High" 's music sharing session at New Era University College
Local
--
Coordinator
12.
2018.7
"Dynamic as nature" Chinese Department 20th Anniversary Celebration
Local
--
Coordinator
13.
2018
Promo Film in Commemorating "Philanthropists in Malaysia and Singapore" (YouTube)
Overseas
--
Video documentary planner
14.
2018.7.28
"Philanthropists in Malaysia and Singapore" Beijing Launch Ceremony
Overseas
--
Executor
15.
2018.4.21
The 6th "Dynamic as nature" Grand Award Ceremony and Motivation Camp on Chinese Language (700 participants)
Local
--
Coordinator
16.
2017-2018
New Era University College Department of Chinese Language and Literature's official website and Facebook page
Overseas
--
Page Manager,
Copywriter
17.
2017.10.24
"Lecture Series by outstanding graduates" : Sherl Hon
Local
--
Coordinator
18.
2017.8.2
Interview of graduate series "Glowing in Chinese" : Tan Lay Ken (Settled in United States / Currently working in the Marketing Department of a famous technology company in Silicon Valley / Former office assistant of the San Jose City Councilor in California, and an administrator of a Silicon Valley technology company)
Local
--
Coordinator
19.
2017.7-
"Dynamic as nature" Grand Award in Chinese Studies
Local
--
Coordinator
20.
2017.7
International Conference on "The Belt and Road Initiative and Sinology Studies in Malaysia"
Overseas
--
Coordinator
21.
2017.6.20
"Lecture Series by outstanding graduates" : Tan Lay Ken
Local
--
Coordinator
22.
2017.4.21
Interview of graduate series "Glowing in Chinese" : Niz Chan (Deputy Editor-in-Chief of Business Culture Magazine "The Entrepreneur" / Editor-in-Chief of "Business" Publication / One of the leaders of Fleashion)
Local
--
Coordinator
23.
2017.4.13
Interview of graduate series "Glowing in Chinese" : Koh Hui Ling (Founder of Empress Culture Sdn Bhd)
Local
--
Coordinator
24.
2017
"The Pains and Pleasures of Learning Chinese" Video
Local
--
Coordinator
25.
2016
Tan Chin Yang "Glittering brightly in Department of Chinese Language and Literature" video
Local
--
Coordinator
26.
2016
Tan Kian Fatt "My study journey in Department of Chinese Language and Literature" video
Local
--
Coordinator
27.
2016
"Su Mu Zhe: The moonlit night on Seventh lunar month" Promotional Video for Selected Readings in Verse lecture class
Local
--
Narrator,
Director of Copywriting
28.
2016
"Zhong Wen Ren" Series 3 Promotional Video
Local
--
Narrator,
Director of Copywriting
29.
2016.4.21-23

The 2nd New Era College Kajang Community Book Fair
Local
JWC Global Sdn. Bhd.
Got 1 Publisher
Mentor Bookstore
Odonata Publishing
Love Community Center
Gerak Budaya
Loka Made
Coordinator
30.
2016.3.5
Motivation Camp on the Chinese Language: "Zhong Wen Ren" Series 3 Launching Ceremony
Local
--
Coordinator
31.
2015-2017

The 1st to the 3rd Xinxi Chinese Literary Forum (Number of students instructed: 12)
Local
--
Academic advisor
32.
2015.12.17-30

The 1st Seminar in Beijing for Malaysia Chinese Teacher
Overseas
Beijing Municipal Education Commission
Beijing Second Foreign Language Institute
Coordinator
33.
2015.5.30
The 1st International Symposium about Malaysian Chinese Literature and the Unveiling Ceremony of Fang Xiu Library
Overseas
Tropical Literature Club
Seminar Organizing Committee, Fang Xiu Library Unveiling Ceremony Planner and Responsible for Fang Xiu Library Window Display Content
34.
2015.4.11-15
The 1st New Era College Kajang Community Book Fair
Local
--
Coordinator
35.
2015.3.14-16
The 1st Hua Zong Literary Camp
Local
Sin Chew Daily
Coordinator
36.
2015.1.25
"Teaching Certificate of Chinese as a Foreign Language in Elementary and Secondary Education" Award Ceremony
Overseas
Beijing Municipal Education Commission
Coordinator
37.
2014.9
"Teaching Certificate of Chinese as a Foreign Language in Elementary and Secondary Education" Award Ceremony
Overseas
Beijing Municipal Education Commission
Coordinator
(6) Exclusive Interview
| No. | Date | Title | Local/Overseas | Media |
| --- | --- | --- | --- | --- |
| 1. | 2021.7.6 | (Newspaper report) Learning Site: Intellectual female writers know each other and cherish each other | Local | China Press Daily |
| 2. | 2021.5.9 | (Facebook live streaming) The Pros and Cons of UPSR Repeal and PT3 Cancellation | Local | Wong Ching Yong's Facebook Live Room |
| 3. | 2021.4 | (Magazine report) The Meaning of Travel | Local | Travelmate Magazine |
| 4. | 2021.3.13 | (Facebook live streaming) The unbreakable family bond: The departure and epiphany of life | Local | Nirvana Malaysia |
| 5. | 2020.11.30 | (Newspaper report) A guide for secondary school students: It's best only when it fits you most | Local | China Press Daily |
| 6. | 2020.7.17 | (Magazine report) Interview with Dr. Tey Shi Bin, Director of the Institute of International Education: New Era University College has successfully accredited by the Ministry of Education of China on JSJ website | Local | Xinguang Magazine |
| 7. | 2020.6.30 | (Magazine report) Further education vs Employment: How do you choose in the face of pandemic? | Local | Majalah Pelajar |
| 8. | 2020.6.22 | (Facebook live streaming) Young Scholars talk on Johor Bahru EP07: On the Inheritance, Innovation and Global Dissemination of 24 Season Drum to Traditional Drum Music | Local | Main-Scholars's Facebook Live Room |
| 9. | 2019.12.27 | (Radio reporting) I love you morning: So cool show | Local | Melody FM |
| 10. | 2019.11.9 | (Radio reporting) Share Your Thoughts | Local | ai FM |
| 11. | 2019.11.8 | (Newspaper report) Learning Site: Graduation! Take it easy... | Local | China Press Daily |
| 12. | 2019.11.2 | (Radio reporting) The Night Show | Local | 988FM |
| 13. | 2019.8.13 | (Newspaper report) Flying High: Sing with a young heart | Local | Sin Chew Daily |
| 14. | 2019.8.5 | (Newspaper report) Flying High: New Era Campus Music Album Production by students | Local | Sin Chew Daily |
| 15. | 2018.6.25 | (Event live streaming) Standard Mandarin Chinese Pronunciation: Interview with Dr. Tey Shi Bin | Local | Department of Media Studies, New Era University College |
| 16. | 2017.11.3 | (Magazine report) Department of Chinese Language and Literature: The significance of " 'Dynamic as nature' Grand Award in Chinese Studies", discuss about the experience in the Chinese Society and the joys and pains of learning Chinese | Local | Xue Hai |
| 17. | 2017.5.23 | (Newspaper report) The usefulness of the useless: Chinese language | Local | Nanyang Siang Pau |
| 18. | 2017.5.17 | (Online report) The "sacrifice" made by girl born in the 1980s for the Chinese language study | Local | Pocketimes |
(7) Off-Campus Literary Assessment Panel
No.
Date
Project/Activity
Local/
Overseas

Organizer
1.
2021.6.8
New Era University College x JWC Roastery Father's Day Copywriting Competition
Local
JWC Global Sdn. Bhd., New Era University College
2.
2020.10.15
"Beautiful China 2020" Essay Final Competition, Zoom Cloud Meetings
Local
Chinese Cultural Center
3.
2019.7.31
Selangor Area Secondary School Chinese Impromptu Speech Competition
Local
Hokkien Association Klang
4.
2018.6.29
Hulu Langat Area Chinese Poetry Reading Competition
Local
SMJK Yu Hua
5.
2018.5.28
Hulu Langat Area Chinese Poetry Reading Competition
Local
SJK(C) Bandar Sungai Long
6.
2017.6.21
Hulu Langat Area Chinese Poetry Reading Competition
Local
SMJK Yu Hua
7.
2017.4.11
Hulu Langat Area Primary School Chinse Public Speaking Competition
Local
SJK(C)Yu Hua
8.
2016.10.9
Kuala Lumpur Area Primary School Chinese Story Telling Competition
Local
Kajang Kuang Dong Association Hall
9.
2016.9.25
Ng Teck Fong Chinese Language Excellent Award
Local
Ng Teck Fong Foundation,
World Entrepreneurs Foundation
10.
2016.7
National High School Literature Competition: Prose Category
Local
--
11.
2016.4.8
Hulu Langat Area Poetry Reading Competition,
Local
SMJK Yu Hua
12.
2015.9.6
Selection of Kuala Lumpur Area of National Primary School Story Telling Competition
Local
Hulu Langat Kuang Dong Association Hall
13.
2015.6.17
Gombak Area Secondary School Chinese Impromptu Speech Competition
Local
SMK Kepong
14.
2015.6
National Secondary School Literature Competition: Prose Category
Local
--
15.
2015.4.28
Hulu Langat Area Primary School Chinese Public Speaking Competition
Local
SJK (C) Kampung Baru Semenyih
16.
2015.4.17
Hulu Langat Area Poetry Reading Competition
Local
SMJK Yu Hua
17.
2014.9.13-14
National Independent High School Chinese, Malay and English Public Speaking Competition
Local
Sabah Chinese High School
(8) Awards and Excellences
*Ranked by type of awards, followed by year of awards
| No. | Type | Award | Introduction | Year |
| --- | --- | --- | --- | --- |
| 1. | Education | Teaching Excellence Award | New Era Teaching Excellence Award | 2021 |
| 2. | Education | Teaching Excellence Award | The 1st New Era Teaching Excellence Award | 2019 |
| 3. | Administration | Service Excellence Award | New Era Service Excellence Award | 2021 |
| 4. | Thesis | Distinction | PhD Thesis Inter- varsity of Central China Normal University with masterpiece "The Classical Literary Language Novels of Qing Dynasty that recorded in Qingshigao Yiwenzhi, BuBian and Shiyi (Bibliographical Catalogue)" | 2014 |
| 5. | Thesis | First Class | Wenyuan Award (International Academic Award) with masterpiece "Prevent suicide and treasure the life given: The modern value of Life view of Confucianism and Daoism in Pre-Qin" | 2012 |
| 6. | Thesis | Distinction | Master Thesis Inter- varsity of Central China Normal University with masterpiece "The Eternity of Life and Death: The Perspective of Life and Death of Sima Qian from as According to the Determinant of Life and Death in Various Characters in Shiji" | 2010 |
| 7. | Thesis | Second Place | The 16th New Era Inter-Varsity Literature Awards with masterpiece "Emphasis etiquette or hegemony: The Progressive Idea of Zuozhuan" | 2008 |
| 8. | Literature | First Prize | Wuhan and I Literature Awards, 2013 with prose "Wuhan from the mountains of osmanthus in Central China Normal University" | 2013 |
| 9. | Literature | Special Award | The 7th Cun Cao Xin Awards with prose "My sister-in-law" | 2011 |
| 10. | Literature | Outstanding Award | The Teenager Literature Awards with prose "My Chinese Journey" | 2010 |
| 11. | Literature | Nominated | Singapore International Prose Awards with prose "The illuminated city lights on the causeway" | 2009 |
| 12. | Literature | Nominated | Xingyun Awards with prose "Tomorrow and Instability" | 2009 |
| 13. | Literature | Nominated | The National Inter-Varsity Chinese Literature Awards with poem "Accept" | 2007/2008 |
| 14. | Literature | Nominated | The National Inter-Varsity Chinese Literature Awards with prose "Eyes" | 2007/2008 |
| 15. | Literature | Outstanding prize | Literature Fortnight Awards with poem "Grandmother" | 2005/2006 |
| 16. | Others | Outstanding International Student Award | China Scholarships Council | 2014 |
| 17. | Others | Outstanding International Student Award | China Scholarships Council | 2010 |
| 18. | Others | The 4th place in the Faculty of Arts and Social Science | Graduated at University of Malaya for Bachelor of Arts in Chinese Studies with First Class Honours | 2007 |
(9) Other Achievements
No.
Project/Activity
Introduction
1.
Institute of International Education

As the founding director of Institute of International Education, Tey Shi Bin successfully registered New Era University College on the China's JSJ Study Abroad website, established SOPs related to admissions and interviews, registration, study and management, graduation, and formulated agency quality management measures, which successfully recruited 354 international students and facilitated the school's upgradation and ranking. (2018.10-)
Increase the academic staff member and enhance the enrollment conditions.

2.
Global cooperation

Nearly 70 memoranda of cooperation, cooperation agreements, and academic visits have been signed and conducted with foreign institutions since the inception of the Institute of International Education, which are beneficial for schools to participate in the ranking. (2019.4-)

3.
Bachelor of Arts in Chinese Language and Literature

Curriculum Review and Project Leader, Full Accreditation (FA) (2016-)

4.
Marketing and Sales Department

Renamed the Admissions Office to the Marketing and Sales Department. Under the epidemic, the Marketing and Sales Department implemented a series of reform, expanding from a few thousands of data in education fair to a current total of 33,237 data.
A dedicated copywriting team was set up to improve exposure and response rates, and the current responding speed has been increased from 2 days to 1 hour.

5.
School activities

Conceived and planned "Nutritional Supplement Time-Traveling Project", "Boost your Learning Ability Workshop" and "New Era Card".
Conceived and planned industry-university-research cooperation projects, such as cooperating with specially invited merchants to establish the first new energy vehicle (motorcycle) charging pile on campus in Malaysia and promoting the "Scan to Ride in Campus" program.